Top 20 Most Promising IOT Companies - 2021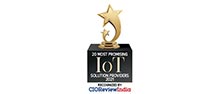 "IoT (Internet of Things) we can see everywhere but we don't recognize it is an IoT product. Likewise, in recent times, we switch off the fan, air conditions, lights, and many other devices with just a click on the button in our mobile. This process of smart home living is possible because of these IoT applied technology. As IoT is a fast-growing industry now, people are adapting to the new smart life, where IoT appliances are essential in every home.
As per reports, the IoT industry market value globally will reach 1386.06 billion USD by the year of 2026, which was at 761.4 billion USD in 2020. It will have a growth rate of 10.53 percent. As per CAGR, in India also the market is growing rapidly and many companies are stepping into the industry.
IoT is needed for an easier life, to hassle-free living without extra time consumption. With the help of IoT products, many applications in infrastructure, chemical industry, medical field, electronics, electrical, mechanical, petro-chemical almost every industry is saving time.
Every company is providing the service in their own way and own models, but to beat the competition, they have to prove they are the elite leaders in the industry. It is hard to decide which company is at the top and which one is at the bottom in the industry.
Our magazine team CIOReviewIndia did a lot of research on this one and made a list of the companies who are leading the industry with IoT products. With the help of veterans, VC's, top leaders in this field, the list "Top 20 Most Promising IOT Companies - 2021" has been prepared. In this issue of magazine we are publishing the listing to create a heavy demand of IOT devices.
We present to you CIOTechOutlook Top 20 Most Promising IOT Companies - 2021.
Top 20 Most Promising IOT Companies - 2021
| Company Name | Company Description |
| --- | --- |
| CavyIoT | A product and service based company having a single product as well as an independent service related to it and works on IoT technology which can be used in agricultural, industrial, home... |
| | |
| --- | --- |
| Blutrronix | It is a new age Internet of Things (IoT) and Artificial Intelligence (AI) company with a vision of being a trusted leader in the field of "smart security solutions" and "smart life solutions". |
| Coresonant Systems | Coresonant systems has long lasting expertise in variety of technologies and offers wide range of solutions to different sectors, domains and industries. |
| Faclon | Falcon is providing one stop & highly relevant IoT & AI for industries and enterprises. With a lot of project implementation in India and overseas with industry level standards. |
| Gcrcloud | A prominent network for all purposes, and provides Software as a Service connected IoT solutions to empower the people with the technology. This company created the most responsive B2B platform to... |
| Gill Instruments | Gill Instruments with new innovations, new devices became one of the top brands. From smart meter to smart grid, smart water and lighting, to smart cities this is the brand for consumers. |
| Hexahash | Hexahash Provides various trace and track systems using the auto identification technologies to solve the problems of the industries and enterprises. |
| Intalia Technologies | They are AIS 140 Compliant eSIM and Platform Service Provider and contributing towards establishing ecosystem for implementation of smart transportation using IoT and M2M Communication Technologies. |
| Intellistride Technologies | Smart provider of RFID products, IoT software and solutions in the APAC region under exclusive partnership with Kathrein GMBH, a worldwide leader in this technology. |
| Invendis | Invendis innovate using the modern systeme architectures for building the smart devices. |
| IoTivity Automation | IoTivity Automation provides machine-2-machine communication for all their opertaions, to track, do the operation. Connecting the physical machines to internet is their main motto, and with this... |
| Linkz Global Solution | Provider of the new-age IoT technology solutions with focus on the development of technology devices for hassle free and better services to the sectors of hospitals, education, sports, and... |
| Maestrotek Innovations | It is a cutting-edge automation technology solution provider company, expertise in integration of different products to transform it to a comprehensive solution suitable for the applications in... |
| Ness | Integrates the digital platforms and enterprise software that helps the organisations to engage with the customers and others. |
| One Network Consulting | Provides comprehensive IT support services, resources and solutions to organisations, helping them to build and maintain the networking environments they need to satisfy customers and outdistance... |
| Onebee Technology | India's First IoT retail brand, gives you access to control devices in your home from a mobile device anywhere in the world. |
| Probus Smart Things | A powerful IoT solution foe electricity utilities, which helps them achieve smart grid automation. |
| Smartron | Building 'smart things for life' with development and innovation of IoT and is India's first global brand with focus on innovation, design, engineering, products and platforms. |
| Xformics | Xformics provides the high performing AI-driven IoT system to the people, and a wide range of end-to-end solutions. With their cutting edge sensors, they provide the required performance. |
| Zimetrics | With a goal of providing the smart management to people this company is started. But not only the IoT devices, this company also deals with the data management, and big data analytics. |