10 Most Industrial IoT Solution Providers - 2020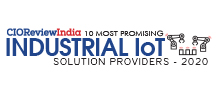 Industrial IoT is the new digital way to transform the manufacturing process and enable smart manufacturing in the industries today. From automobile and pharmaceutical manufacturing firms to oil & gas enterprises, a large number of companies have begun to implement Industrial IoT solutions. According to a report by Markets and Markets, the global Industrial IoT solutions market is expected to grow from USD 77.3 billion in 2020 to USD 110.6 billion by the end of 2025, growing at a CAGR of 7.4 percent during the forecast period. The growth of the market is attributed to various factors such as advancements in semiconductor and electronic device technologies, proliferation of cloud computing, standardization of IPv6, and support from governments for R&D. However, any enterprise wishing to capitalize on the benefits of Industrial IoT needs to partner with a reliable technology partner that can help them achieve substantial improvements in efficiency by analysing their industrial maturity, considering the convolutions in the Internet of Things.
Enabling enterprises to choose the right vendor who can lay down a clear roadmap for the successful implementation of IIoT and thereby add value to their business by addressing their unique pain points, CIOReviewIndia proffers a list of "10 Most Industrial IoT Solution Providers". This compact list displays an inventory of skilled vendors with an industry rich experience, technically adept teams and a proven track record. A panel consisting of prominent CEOs, CIOs, industry analysts and CIOReviewIndia editorial team has meticulously researched and locked down on the final 10 vendors who we firmly believe can assist enterprises in their digital transformation.
We present to you CIOTechOutlook 10 Most Industrial IoT Solution Providers - 2020.
Top 10 Most Industrial IoT Solution Providers
| Company Name | Company Description |
| --- | --- |
| Electrono Solutions | A next generation digital solution enterprise that specializes in research infrastructure management, design consultancy and automation solutions. |
| Company Name | Company Description |
| --- | --- |
| Tardid Technologies | TARDID Technologies, a Bangalore based company addresses the above mentioned operational issues of businesses by harnessing the untapped potential of augmented intelligence and machine learning. |
| | |
| --- | --- |
| Greenfield Software | Has a portfolio of infrastructure management software for distributed sites such as data centers, ATMs and telecom facilities that combines centralized monitoring over an IP network of connected... |
| Instron Technologies | A team of Instrumentation, Software, Process & Thermal Engineers who provide products and services in the areas of Automation, Process Plant Design & Supply IIoT. |
| M2IoT Solutions | Industrial IOT startup with a focus on crafting Manufacturing solutions using Industrial IoT and Machine Learning platforms for improving Lean Manufacturing, Operational Excellence, Plant... |
| Moxa | Connectivity technology that helps develop reliable network solutions that enable devices to connect, communicate, and collaborate with systems, processes, and people. |
| Neptunus | Driven by a better way to maintain large, mission-critical assets in the Marine, Industrial, Oil and Gas and Defence Sectors across 25 countries in Asia, Middle East, Africa and Europe. |
| Orange Wit Consulting | Helping organizations break free from traditional approach of generic SCADA applications, and developing customized solutions to address challenges faced by the industry. |
| PTC | Through a combination of Augmented Reality, Industrial IoT, PLM and CAD solutions, PTC technology has helped its customers achieve impressive results. |
| SANMIN Technology | Helps in providing affordable, custom built Web Development and Software Development services across the world with latest and emerging IIoT. |
| WebNMS | Enterprise IoT Platform that enables enterprises to harness the power of IoT to connect a diverse set of assets operations and systems to enable data driven decisions. |