10 Most Embedded Technology Solution Providers - 2019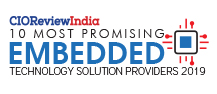 According to a report by Brandessence Market Research & Consulting, the global Embedded System Market is expected to become worth USD 261.84 billion by 2025, growing at a CAGR of 5.36 percent with increased applications in the fields of digital electronics, telecommunications, satellite systems, military defence system equipment, etc. Rising demand among the consumers for wireless communications, consumer electronics and networking along with advancements in the automation technologies and IoT are expected to drive the market further. As embedded systems are getting smaller and smarter with better interconnectivity capabilities, there is also an upsurge in the security concerns in the systems that are embedded with smart functionalities. Increasing complexities during the designing and manufacturing phases of the end product are demanding continuous innovation in the system design. Also regular upgradation and repairs of the embedded systems to ensure better performance has become a challenge due to the complex designs and lack of skilled workforce. Given the numerous complexities and challenges, selection of a right technology partner is crucial for businesses to deliver better quality products.
Helping enterprises choose the right technology vendor who can address their business challenges, CIOReviewIndia proffers a list of "10 Most Embedded Technology Solution Providers - 2019". This compact list displays an inventory of skilled vendors with an industry rich experience, technically adept teams and a proven track record. A panel consisting of prominent CEOs, CIOs, industry analysts and CIOReviewIndia editorial team has meticulously researched and locked down on the final 10 vendors who we firmly believe can help enterprises achieve their business goals.
We present to you CIOTechOutlook 10 Most Embedded Technology Solution Providers - 2019.
Top 10 Most Embedded Technology Solution Providers
| Company Name | Company Description |
| --- | --- |
| Caliber Interconnect Solutions | Provides a wide range of services which include Embedded product development, SiP, IC packaging, PCB design and electrical analysis outsourcing etc. |
| | |
| --- | --- |
| EDS India | Offers services across Complete Hardware Design, Embedded Software, Application software and web applications including Mobile Apps. |
| Enertech | Provides embedded software services for Power Engineering. |
| Kritikal Solutions | Offers end-to-end product engineering services and IT consulting services to Healthcare, Automotive and Energy sectors. |
| Menlopark Technologies | Provides end-to-end embedded software development and product engineering services to Defense, Transportation, Communication, Medical and Industrial automation and other industries. |
| SkandySys | Offers Digital Design, Digital Verification, DFT, Physical Design, Firmware and Software services. |
| Softnautics | Offers embedded system design services with specific focus on embedded software development, test automation and system-level validation for SoCs, application and UI development and more. |
| Technofist | Provides academic projects and training on latest embedded technologies. |
| Toradex | Specializes in embedded computing technology and offers Arm-based System on Modules (SoMs) and Customized SBCs. |
| Yantra Vision | Provides technology solutions in the fields of Embedded Vision and Machine Learning to Defence, Aerospace, Industrial Automation and Retail industries. |