20 Most Promising IoT Startups- 2019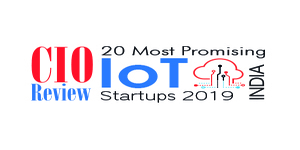 Innovation is moving at a fast pace, and Internet of Things is connecting with ever-increasing number of gadgets. New tech startups and built up companies are connecting gadgets to work together, making it easy to understand. 26,792 startups are relying on IoT as one of their main technologies to launch new products, services and support platform-based business models according to Crunchbase. The market potential of the Internet of Things in India alone is expected to reach USD 9 billion by 2020. With this, the IoT units in India can also see a rapid growth of 31 times to reach 1.9 billion by 2020. A number of IoT startups in India (roughly 70 percent) have emerged a few years back only. Healthcare and manufacturing are popular verticals attracting a lot of investor interests. ThingsCloud, Doxper, SeeHow, Uncanny Vision, IOT Pot are some of the top IoT startups in India.
Furthermore, as per a joint report by IAMAI (The Internet and Mobile Association of India) and Deloitte, Industrial IoT is expected to surpass the consumer IoT space in India by 2020. It also predicts a USD 12 billion IoT opportunity. The accelerated pace of IoT adoption in the country will make sectors like industrial manufacturing, energy, agriculture, utilities, transport, and logistics lead the market, as per the same report. Even, tech talents and engineers over the globe are dealing with new arrangements and applications concerning IoT space. Different new IoT companies are designing unified application interfaces to accelerate user adoption. IoT technology has developed at a break-neck pace and will continue to do so in coming years.
Therefore, we present to you a list of 20 Most Promising IoT Startups 2019. Being closely scrutinized by a distinct panel of judges including CEOs, CIOs, CXOs, analysts and CIOReviewIndia editorial board, we believe that these vendors will bring new products in the market which will increases productivity and reduce the complexity of work processes in the industry.
We present to you CIOTechOutlook 20 Most Promising IoT Startups- 2019.
| Company Name | Company Description |
| --- | --- |
| EEGRAB | Builds Smart Access Management, Smart Locker Management, Smart restaurant management and other Custom IoT Solutions for enterprises. |
| Company Name | Company Description |
| --- | --- |
| IorTa Technology Solutions | Delivers enterprise-level information and process management solutions using IoT and Mobility. |
| | |
| --- | --- |
| AIFA Technology | An end-to-end IR / RF wireless electronics manufacturing company enabling Internet of Things (IoT) that using Bluetooth and WiFi transfer to IR. |
| Altizon Systems | Accelerates Smart Manufacturing initiatives, modernizing Asset Performance Management and pioneering new Business Models for service delivery. |
| Block Armour | Enables blockchain based digital signatures to identify, authenticate and authorize devices to secure IoT communications. |
| Covacsis Technologies | Uses advanced analytics suite tailor-made for manufacturing operations. |
| Faclon Labs | IoT and data analytics based tech startup building products to make cities and villages smart. |
| HiPER Automotive | Specializes in Engine Tuning, Automobile, Motorsports, IoT, and Embedded Technology |
| InfoRepos Technologie | An IoT & M2M products & information services company with core strengths in advanced technology consulting and information solutions. |
| Knowledge Lens | A product technology company focused on enabling actionable insights from enterprise data using AI, Big Data, Cloud, IoT, and Blockchain. |
| LivNSense Technologies | Delivers IIoT solutions across Manufacturing, Automotive, Energy and Utilities industries. |
| MatreComm Technologies | Specialities revolve around IoT, Wi-Fi on Wheels, SmartCity, Wi-Fi monetization, managed Wi-Fi, and cloud managed Wi-Fi. |
| Smartron | Designs next generation of smart devices serving range of verticals built around our Internet of Trons tronX ecosystem. |
| Stellapps Technologies | End-to-end dairy technology solutions company leveraging Internet of Things (IoT), Big Data, Cloud, Mobility, and Data Analytics to improve Agri- Dairy supply chain parameters. |
| TagBox Solutions | Offers IoT, Machine Learning and Automation powered solutions for supply chains. |
| TechPrometheon | Car parking occupancy sensors, POS app for parking and ticketing management, Sensor data analytics for traffic congestion monitoring, EV chargers- server communication, IoT System Integrations,... |
| TempoGo | Provides IoT and Saas integrated platform connects Vehicles, People and Trips. |
| Trenika Technologies | Facilitates IoT enabled Platform for Diary farms. |
| Trillbit | This internet of sound enabler transforms any speaker into a data transmitter and any mic into a data reveiver thereby finding use in in proximity intelligence, retail,smart venues and TV/Radio... |
| Zenatix Solutions | Uses advanced machine learning based models to deliver 10 to 30 percent energy efficiency to large commercial consumers of electricity. |