10 Most Promising Industrial IoT Solution Providers – 2019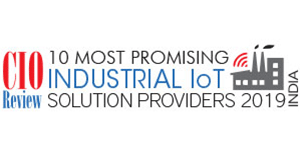 As the Industrial IoT(IIoT) is growing, adoption of IoT (Internet of Things) devices and technology is increasing in companies across industries to accelerate their business. Many industries like manufacturing, oil & gas, utilities & finance are bringing IoT into their operations at a rapid pace. It is noted that by 2030, Industrial IoT is expected to add $14.2 trillion to the global economy. That growth will be driven by investment from both companies that are implementing IIoT solutions and market leaders who are developing new IIoT technology.
Talking about the development of IIot, Forrester reports that industrial products will lead all industries in IoT adoption at 45 percent with an additional 22 percent planning to adopt IoT in the next 12 months. Furthermore, according to Forbes, the Industrial Internet of Things (IIoT) market is predicted to reach $123B in 2021, attaining a CAGR of 7.3 percent through 2020. This will give executives the ability to analyze large quantities of industry and/or products-specific data and use that information for business intelligence and decision-making.
IoT is a very broad-based technology, transforming everything from consumer devices to large-scale manufacturing and industrial applications. So in coming future, Industrial IoT applications will generate more than $300 billion by 2020, double that of the consumer IoT segment ($150 billion). Similarly, IDC Research reported that the top three industries investing in IIoT in 2018 are manufacturing ($189 billion), with a focus on asset management; transportation ($85 billion), on freight monitoring and fl eet management; and utilities ($73 billion), and with a focus on smart grids, while consumer IoT spending will reach $62 billion. Moreover, Accenture expects IIoT to add $14.2 trillion to the economy in the same time period, growing at a 7.3 percent compound annual growth rate (CAGR) through 2020.
So, Industrial IoT is a transformative manufacturing strategy that helps to improve quality, safety, productivity in an industry. Therefore, we present to you a list of 10 Most Promising Industrial IoT Solution Providers 2019. Being closely scrutinized by a distinct panel of judges including CEOs, CIOs, CXOs, analysts and CIOReviewIndia editorial board, we believe that these vendors will improve visibility, boost operational effi ciency, increases productivity and reduces the complexity of process in the industry.
We present to you CIOTechOutlook 10 Most Promising Industrial IoT Solution Providers – 2019.
Top Industrial IoT Solution Providers –
| Company Name | Company Description |
| --- | --- |
| Prescinto | Specializes in Industrial IoT, Analytics, Industrial Automation, Platform-as-a-Service, and OPC UA. |
| | |
| --- | --- |
| Amplify Mindware | Brings enterprise wide IoT implementation capability in the areas of gateways, sensors, IOT cloud platform & analytics. |
| AMWick Technologies | Competent in Industrial Internet of Things (IIoT), Process Automation, Test Bed Design, Automation & Integration, Quality Control, Six Sigma Automation, Implementation and Consulting. |
| CONSYST Technologies | Specialties revolve around Engineering Design, Development, Manufacturing & Commissioning of Process Control Systems, Sustainable Technologies and Industry 4.0 Solutions |
| Digi Labs | Provides an integrated platform to innovate across IoT, machine data analytics, Artificial Intelligence, and Augmented Reality. |
| Hitachi Consulting | Combines Consulting expertise & Operational technologies capabilities to deliver AI and IoT-enabled smart manufacturing solutions. |
| MatrIoT | The service portfolio includes IoT Platform Engineering, Datacenter & Infrastructure Management, IoT Analytics and Consulting & Training. |
| Redeem Systems | Expertise lies in Internet-of-Things (IoT), Engineering Analytics, Software Defi ned Networking (SDN)and Network Functions Virtualization (NFV). |
| Sensital | A provider of IoT, IoT Platform, IoT Implementation Services, Supply Chain Management, Consulting, Operations Automation, and Predictive Asset Maintenance. |
| Winjit | Leverages technologies such as big data, machine learning, sensor data, machineto-machine (M2M) communication to build intelligent commercial-ready industrial equipment and facilities. |