20 Most Promising IOT (Internet of Things)Companies 2015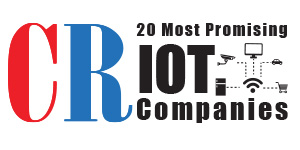 While sharing her insights about IoT, Simona Jankowski, a Senior Equity Research Analyst at Goldman Sachs Global Investment Research accentuated IoT as the next iteration of the internet. The fixed Internet that propelled from 1990s connected the world which was later expanded in 2000s by mobility solutions. Being the third wave of internet, IoT has made repercussions across business spectrum. It helped companies to generate revenue and save costs. Cisco recognizes three major reasons for IoT market gaining momentum. First, growth in analytics and cloud computing, which led to increase in interconnectivity of machines and personal smart devices. Third being the proliferation of applications connecting supply chains, partners and customers. In the midst of positive outcomes, IoT couldn't cut loose of challenges. Need for security and privacy are on the leading edge of IoT. Both are inevitable risks of fixed internet, which got mightier with the emergence of IoT. Concerns surrounding IoT includes storage infrastructure and bandwidth. As the data become more prevalent the impact is equally distributed as well as the focus drives to the issue on how business can implement the solutions in a cost effective manner. IoT brings with it tremendous amounts of complexity and the existing data center WAN links are sized for the moderate-bandwidth requirements. IoT promises to dramatically change these patterns by transferring massive amounts of data to the data center for processing. We present to you the top "20 most promising IoT companies" which aids their clients to adopt IoT faster and prep up internal infrastructure to exist compatible enough. A distinguished panel comprising of CEO's, CIO's, industry analysts and CIOReview editorial team scrutinized various companies before finalizing the Top 20 names.
We present to you CIOTechOutlook 20 Most Promising IOT (Internet of Things)Companies 2015.
| | |
| --- | --- |
| EcoAxis | A provider of Cloud-based solutions for continuous remote monitoring of industrial plant and equipment as well as energy and environmental resources. Additionally, A.T.E. has expertise in handling... |
| Axelta Systems | A provider of M2M, IoT and online IoT Training together with it's security solutions through tracking of asset location, monitoring performances and analyzing faults with real maintenance reminders. |
| ConnectM Technology Solutions | A provider of M2M Platform, Applications and Services; further, they provide Telecom, Utilities, and Healthcare services. They provide domain specific analytics on the data collected and delivering... |
| Cooey Technologies | A provider of health monitoring IoT platform that collects relevant data, manage and analyzes health vitals of patients. At Cooey, they are building 3rd Platform for chronic patient health management. |
| Venba Tech | A provider of IoT solutions in commercial and home segments. Venbatech is a design, engineering and project management firm that manufactures products in the arena of extra low voltage systems. |
| iTrans Tech | A provider of Telematics solutions for players in Automobile Ecosystem. iTrans Global delivers cloud computing solutions with special focus on Consumer and Insurance verticals. they have solutions... |
| Elsys Intelligent Devices | A provider of IoT solution for better traffic management in roads. Elsys' technology platform, Raksha SafeDrive, employ advances in IoT and Mobile Technologies. Their core expertise is Product... |
| Ascendum Solutions | A provider of IoT with urban mobility, M2M and discreet manufacturing that unlocks revenue and catalyze growth. Specialised in eCommerce, Social Media Marketing, Hosting and Remote Managed Services... |
| Embitel Technologies | A provider of IoT solution for Home Automation such as EnOcean enabled wireless sensors, Gateway with Customized Embedded Linux OS, Gateway supporting 3G/4G, Ethernet and Wi-Fi for bi-directional... |
| Flutura Decision Sciences & Analytics | A provider of Intelligent Data Products for Energy and Heavy Engineering industry by mining IoT Sensor data using its Data science platform – Cerebra. Cerebra has ability to harness previously... |
| GlobalEdge | A provider of IoT components to device management for smart Industrial applications. With combination of platform, connectivity, and cloud engineering technologies, GlobalEdge has evolved as a... |
| Harbinger Systems | A provider of IoT application frameworks. Harbinger Systems builds software solutions leveraging social, mobile, analytics, and cloud (SMAC) technologies for domains such as human capital... |
| Innominds | A provider of context aware analytics and IoT framework and consumer grade UX/UI design house capabilities. From concept to commercialization, Innominds research, design, build software and connect... |
| KocharTech | A provider of IoT, Device-Management, Self-Care, M2M communications, integrated BPO services, and specialized technology training programs. They are one of the largest company delivering 1,75,000... |
| MegaChips Corporation | A provider of products and technologies that target Wearable devices and IoT applications. They focus on cutting-edge SOCs incorporating original algorithms and architecture in the areas of... |
| MOBODEXTER | A provider of IoT technology that covers all verticals including home automation, home security, automobile, industries machine to machine (M2M), fitness and health, mobile apps and cloud or... |
| SenzIT | A provider of enterprise solution which involves IoT devices, analysis of large amounts of data on a cloud platform, facial recognition and other advanced technologies. Company is spanning across... |
| Strobs India | A provider of customized technology solutions that focuses on internet of Things (IoT), Augmented Reality, Mobile Applications, Social Media and Wearable Technology. They focus on understanding the... |
| Volansys Technologies | A provider of IoT based product and solution, Wearable products and solutions like Connected Home, Connected Mailbox, Energy Monitoring and management. They are also into Logistics, and Building... |
| VVDN Technologies | A provider of embedded systems and solutions at the forefront of IoT device and infrastructure development. They provide 'Concept to Customer' services at any point in the development cycle at... |